17 January 2017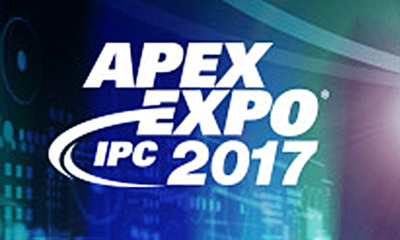 January 17, 2017 - Ventec International, a world leader in the production of polyimide & high reliability epoxy laminates and prepregs, will showcase its latest PCB materials innovations at APEX 2017 on booth #3715, including the industry's most advanced ultra-low Dk PCB materials for high-speed low-loss applications. The show will take place from 14th to 16th February 2017 in San Diego, USA.
Ventec's team of materials experts will present the company's next generation polyimide technology including the latest industry-leading ultra-low Dk PCB materials for high-speed low-loss applications. Further show-highlights will feature advances in high performance IMS materials that deliver an exceptional thermal performance, reliability and quality, particularly demanded by automotive and other LED lighting and DC power conversion applications. Visitors to the booth will also be introduced to the company's complementary ranges of PCB base-materials including products such as flex- & rigid-flex circuit board materials, back-up, entry & routing materials, foils and coatings.
Jack Pattie, President of Ventec's US operation commented: "Our continued global strategic investments in human resources, new technologies and production equipment that expand our product offerings and leverage production resources, enable our customers to enjoy one single access point to an extraordinary portfolio of complementary products & services today. We offer a one-stop-shop-solution, all supported by our global network of manufacturing & service centers linked by a fully owned and controlled global supply chain that ensures product quality, consistency and reliability."
For more information about Ventec's solutions and the company's wide variety of products, please visit www.venteclaminates.com and/or download the Ventec APP.