30 January 2017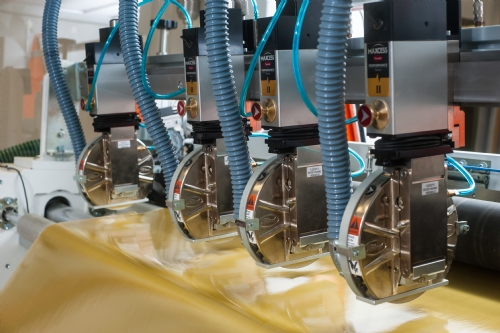 Ventec International Group, a world leader in the production of polyimide & high reliability epoxy laminates and prepregs, has increased the manufacturing capacity at its Chicago facility (700 Lee Street, Elk Grove Village, IL) with major investment into new state-of-the-art equipment for laminate/prepregs as well as its newest ranges of PCB base-materials including complementary products such as flex- & rigid-flex circuit board materials, back-up, entry & routing materials, foils and coatings.
To capture growth opportunities in prepreg markets, which are driven by particular demand from high reliability, military and aerospace applications, a Pasquato TE 15 prepreg slitter/sheeter from Italy has been installed. At the same time, cooler storage capacity has been doubled and provides 'storage 1' conditions of below 5oC for prepreg materials. Prepreg vacuum sealing capacity has also been doubled with the addition of a dedicated vacuum packer.
For cut-to-size back-up and entry materials, further cutting capacity is provided through the addition of a Kitagawa Diamond Blade Saw alongside the existing Yow Shi Diamond Blade Saw for laminate. Two Excellon Mark V Driller/Router Machines - one for tooling prepreg and one for tooling back-up and entry - have been added alongside the existing Excellon IV Drill machine, adding drilling capacity to allow for materials to be supplied with tooling holes where required. Having two saws, additional drilling capability, a new shrink wrap packaging machine dedicated to packaging back-up and entry materials as well as a second delivery vehicle all in one location, offers customers a unique advantage through fast turn-around and quick-delivery material sourcing.
Jack Pattie, President of Ventec's US operation commented: "Ventec is continuing its phased and strategic investment plan across our global network of service centers. This latest investment in our Chicago facility enables our US customers to enjoy one single quick-turn access point to an extraordinary portfolio of prepregs and complementary products & services today."
For more information about Ventec's solutions and the company's wide variety of products, please visit www.venteclaminates.com and/or download the Ventec APP.