13 May 2022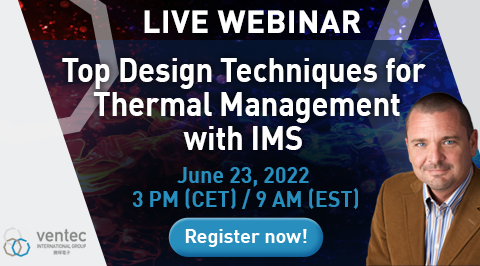 We invite you to join our live webinar on 'Top design techniques for thermal management with IMS' on Thursday, 23rd June at 3 pm CET / 9 am EST. Presented by IMS technology expert Robert Art, the webinar is geared towards helping PCB Designers, OEMs and PCB Manufacturers optimize the thermal performance, reliability, and quality of their designs with high performance IMS materials.
Insulated metal substrate (IMS) technology provides an elegant and economical solution for managing component temperatures in electronic applications such as computing, lighting, and power supplies for a wide range of markets and environments. Identifying a suitable IMS to maintain components at a desired operating temperature enables engineers to design products that enjoy several advantages in the marketplace:
• superior reliability
• smaller size
• attractive appearance
• competitive price
Our free webinar on thermal management with IMS will review popular applications, provide top tips and best practices on IMS material selection and the options that are available to help designers and engineers overcome thermal-management challenges and achieve the thermal performance needed to achieve their targets.
Date: Thursday, 23rd June 2022
Time: 3 pm (CET) / 9 am (EST)
To register: CLICK HERE